Thirty-five high-speed rail lines, measuring 11,000 km, are being rolled out throughout China, a railway ministry official said yesterday.
With China's railways among the main beneficiaries of the government's 4-trillion-yuan stimulus package, around 13,000 km of high-speed railways capable of handling trains traveling at more than 200 kph could be completed and put into service by 2012, said Zheng Jian, chief planner with the Ministry of Railways.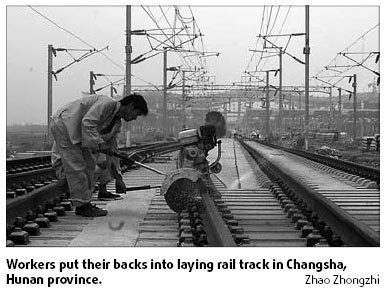 The construction of an additional 5,000-km of high-speed railways will begin soon, he said.
At least five railway routes will be able to accommodate trains traveling at speeds of 350 kph, Zheng said.
The five lines include three north-south routes: Beijing-Shanghai; Beijing-Guangzhou (Hong Kong); and Beijing-Harbin (Dalian).
The two east-west high-speed lines are Xuzhou-Lanzhou and Shanghai-Kunming.
The five lines along with three other lines with a designed speed of between 200 and 350 kph, will become the trunk lines of China's future high-speed passenger rail network.
A ministry spokesman declined to say how many kilometers China's high-speed rail network may end up covering. So far, China has built 185 km of rail track capable of handling the 350-kph trains, including the country's first such rail link, between Beijing and Tianjin, which opened last August.